RECOVERING FROM POWER LOSS IN 12 STEPS
Step 1: Powerlessness
We acknowledge the loss of our power.
Step 2: Hope
We choose to reclaim our own lost power and refrain from exercising power over others.
Step 3: Surrender
We learn to recognize the extent of our power and surrender the places in which we have none. We discern the difference between power over and power with.
Step 4: Inventory
We consent to explore and excavate all the blood-stained places in which our power was taken from us and our boundaries violated, allowing ourselves to grieve, rage, accept and heal. We examine our lives with clarity and identify the places in which we currently lose power or threaten the  power of others. We practice authenticity.
Step 5: Confession
We accept responsibility for our choices, our lives, our power and our self-expression. We turn away from others who practice power over and connect with those who practice power with.
Step 6: Readiness
We create an intentional practice in which we nurture our own power and authenticity and vigorously and persistently defend ourselves from any situation or person that drains, impairs or steals it.
Step 7: Consent
We joyfully consent to undertake defense and repair of our bodies, minds and hearts.
Step 8: Amends List
We make a list of all those who have stolen or coerced our power, learning and studying the methods they used so that we may recognize them again, and seeking understanding of our own behavior, needs and choices. We take responsibility for validating, loving, supporting and caring for ourselves, allowing no one the power to make us feel unworthy.
Step 9: Make Amends
We open our arms to ourselves with love, forgiveness and compassion for our hurts and take steps to regain safety and repair our trust in ourselves.
Step 10: Continue Inventory
We show up every day with ourselves and our community with a clear and fixed intention of managing our own power, staying present with ourselves and our own needs, expressing ourselves authentically, and learning from our choices.
Step 11: Keep Contact
We choose to no longer abandon, silence, criticize, judge, invalidate or otherwise shame or hurt ourselves. We communicate clearly, directly and respectfully with others.  We choose to learn self-defense and practice it, whatever that means to us. 
Step 12: Helping Others
We freely share our power with those who share theirs with us. We build community based on power with. We support others in each of the above steps.
All content on this site ©2017
Jennifer Rose
except where otherwise noted
ANTITOXIN FOR GOOD GIRLS
Follow the link below for an antitoxin to being silent, small, or otherwise invisible because it's dangerous to draw attention to yourself.
Because it's hard to be brave…
Getting your bored on.  Just say yes!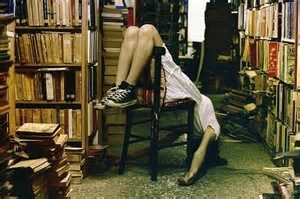 Trying hard versus being real.  You decide what you want them to remember you for when you're gone.
One of my favorite poets well understood the tension between love and fear.  This week's antitoxin to powerlessness is a quote from him from A Year With Rilke, translated and edited by Joanna Macy and Anita Barrows.
Live the Questions
I want to ask you, as clearly as I can, to bear with patience all that is unresolved in your heart, and try to love the questions themselves, as if they were rooms yet to enter or books written in a foreign language. Don't dig for answers that can't be given you yet: you cannot live them now. For everything must be lived. Live the questions now, perhaps then, someday, you will gradually, without noticing, live into the answer.
Worpswede, July 16, 1903; Letters to a Young Poet
A representation of the Primal Mother, Baba Yaga.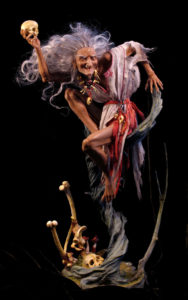 Know when to stop. Give yourself permission to change. Learn to quit with class and confidence. Be free.
Want power? Find your happy.
This is for all those good girls who are the recipients of free advice about how they should live their lives.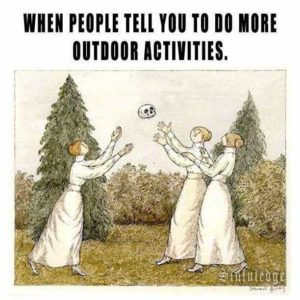 Reclamation begins with reclaiming our luscious, loyal, authentic bodies.